Tight Black Pants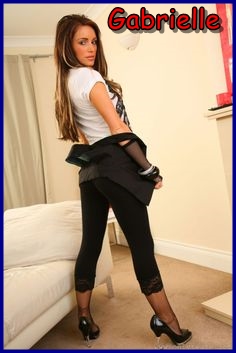 At the gym, I wear tight black yoga pants. I know guys stare at my ass, and I make their cocks hard. When I am at the office, I wear my tight black pants and heels to drive the men crazy. I know they find it hard to stay focused when I file. Bending over, my sexy tight ass pops up in the air causing a man's cock to pop up too. They all can look but not touch. Their lustful desires with only their hand to satisfy themselves, so they fantasize about fucking me. 
I know men masturbate fantasizing about me but at the end of the day, I come home in my tight black pants, to you. I do a slow strip tease for you. I sway my hips and flirt with you. I rub my ass wearing my sexy tight black pants on your cock until you grab me. You remind me that I am your girl by taking off my tight black pants and fucking me hard. Take me, bend me over the sofa, my ass is yours, sexy, all yours! 
Your hot girlfriend,
Gabrielle
.
Call Gabrielle @ 1-866-677-6709
Email- yourgabbygirl4phone@aol.com