Big Boss Gets Punished by New Secretary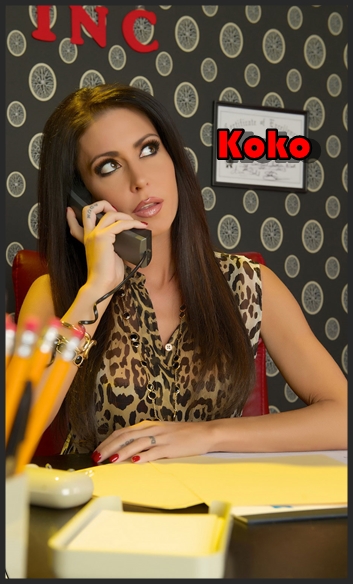 Human Resources assigns you a new temporary personal assistant while your regular girl is on leave. You have read Koko's resume, and she seems well qualified for this position, but there is something hardcore about her. Her strong personality, quick wit, and piercing eyes make you wonder if you will end up working for her some day. She dresses professionally, but very sexy. You would love to pull up that tight pencil skirt and rip off her panties. Bend her over your desk and take her! She has you distracted. You will have to be extra tough on her to break her in so that she knows her place.
One day, you are impatiently waiting for a report from Koko. You interrupt her while she is on the phone. She looks up, glaring at you. You know that you are being very rude, but you are the boss. You are in charge. She works for you. She doesn't get off the phone. She is pissing you off. Maybe she even prolongs her phone conversation longer than necessary, just to get under your skin. When Koko finally hangs up the phone, she doesn't say a word. She gets up from her desk and walks into your office, straight to your desk.  You follow her, like a yapping little puppy dog, and you keep asking about the report, but Koko doesn't answer you.  She picks up your report that is already on your desk. She walks to the door and locks it. She turns and stares. You have lost all your control. You apologize but then rationalize your rudeness by placing blame on Koko.
She tells you that you are a weak excuse of a man, a pathetic individual. Get down on your knees where you belong you worthless worm. She picks up the picture of your wife and kids and laughs at you. She humiliates you. You are now her bitch. Time for you to get fucked like a bitch. Koko lifts up her skirt and puts on a strap-on. She fucks you like the little bitch you are! She fucks your ass hard. You moan and groan as your ass gets fucked! Yes, this is what you have been craving. A woman to turn you into her very submissive bitch! 
.
Call KoKo @ 1-866-949-5809
 Message on AIM- kokowillruinu