Say "Yes" to the Dress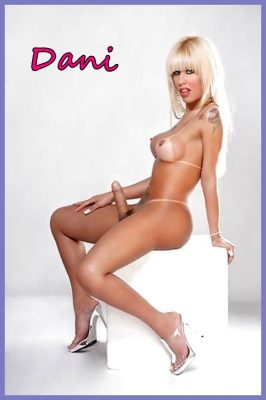 We should have the Ultimate Girls Day together!
You are dressed today in a pretty blouse, a navy skirt, pumps, and stockings.
First, some lingerie and shoe shopping. That is the best way to start any day. Then, a light lunch, possibly salads and a couple of glasses of wine. We love our girl talk and gossip over lunch.
On our way home, I talk you into stepping into a bridal salon. Trying on wedding dresses, what could be more girly or more fun?
The staff is giggling at you, but find several wedding dresses for you try on. 
Once we pick the perfect long white dress, I am going to ravish you in it while the ladies watch us fuck each other. 
Call Dani @ 1-866-514-4236
 Email- shemaledani@aol.com