Play With Your Favorite Girlfriend's Big Tits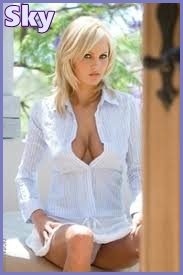 Too busy with work and lots of other drama in your life? Do you just want the good stuff, the steamy, erotic and playful, sexy part of having a girlfriend? Is your wife or girlfriend cranky, moody and to tired for sex?
Baby, I am what you need and desire. Think of me waiting for you whenever you're horny. I am always wet and ready for you. Desire me when you're in the mood for a pretty voice to talk dirty in your ear. I am just a phone call away! 
Couldn't find your favorite shirt to wear to work? I am wearing it. It does not quite button up over my big tits. Unbutton the rest of those buttons and squeeze on my big tits. My nipples are hard and my panties are wet. Don't keep we waiting to too long.
Your Hot Girlfriend,
Skylar
.
Call Skylar @ 1-866-325-1858
Email- yournaughtysky@aol.com