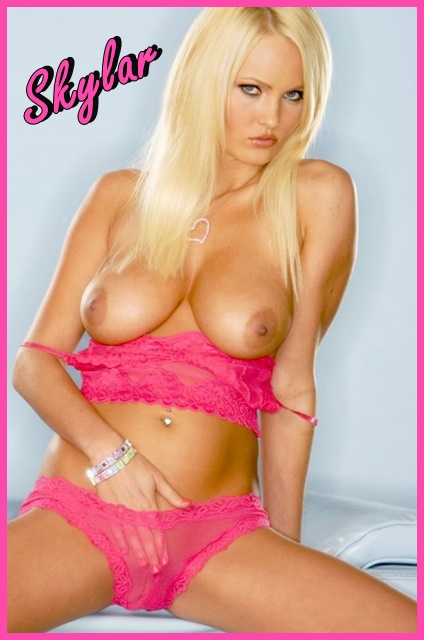 Let me sit on your lap and grind away. I rub my beautiful round breasts with hard nipples against your lips. You know my pussy is so good and wet. I ride comfortable against your pants, as you whisper in my ear, "Talk dirty to me, Skylar!"
I know the international body language of sex. We have quite the conversation!  My sensual lap dance uses the unspoken universal language of erotic passion and sex. The fire in your pants ignites and intensifies when I add my my naughty, dirty words. I make you hard and hot for me. My dirty words and my curves make you crave obsessive sticky sex with me.
I whisper sexy, nasty words as I unzip your pants. I take you between my lips. I leave lipstick stains on your big, thick throbbing hard package. You moan and talk dirty to me as I suck your cock. I bring you to the edge, but stop before you explode.
You know I need more! You grab me and take me from behind. You know my pussy and ass are yours. No need to ask or explain. I scream and beg for more. I plead for you to fuck me harder! You know I can't get enough of you. My greedy body wanting more. My dirty words making your fuck me harder and harder!
Finally, unable to speak, you just moan as you ultimately explode and fill me with your precious cum.
No more dirty talk. I leave you spent and content. You are drained but happy.
Call Skylar @ 1-866-325-1858
Email- yournaughtysky@aol.com