A Twisted Fairy Tale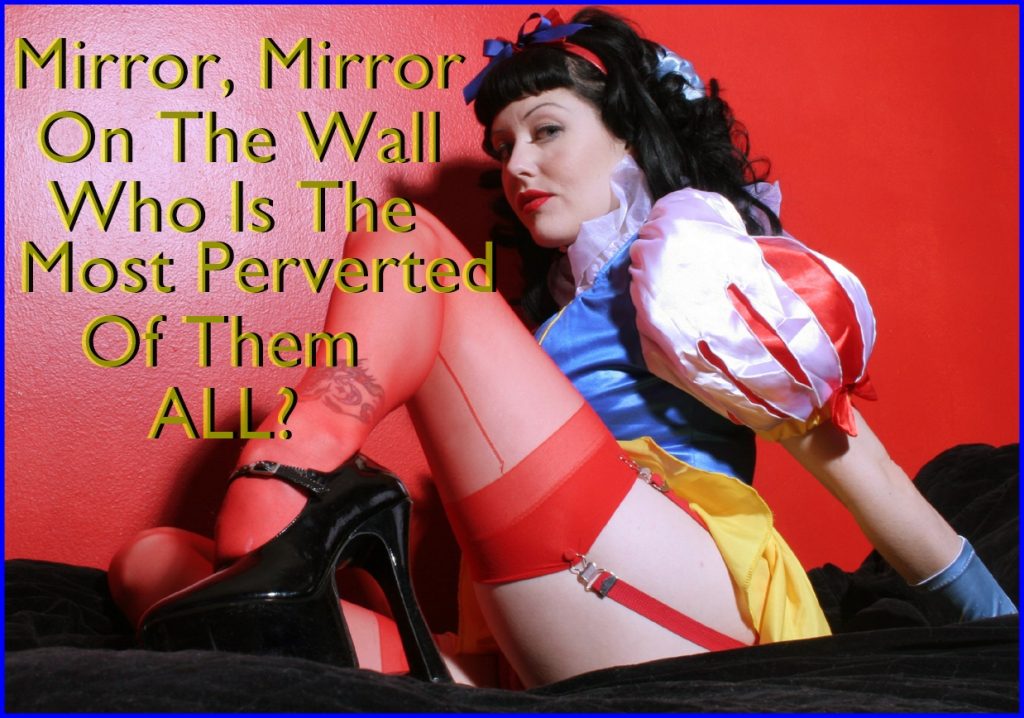 Over the severed limbs , beyond the moss covered wall, in the cottage of the seven dwarfs, dwells Lady Rayne, most perverted of them all. 
After paying her dues and fucking all those pesky little dwarfs, she went from a sub to a feared domina. Thankfully all those tiny fuckers had huge cocks and tongues to please me during my time as a sub. If it seems I am mixing my fairy tales, it's my story and we're doing it my way. 
As I kicked back enjoying an Appletini, the dwarfs kissed and licked my beautiful pale white feet. There was a knock at my door, and in burst a lovely pale thing. She saw my shiny, red apple and she fainted mumbling something about poison Appletinis. The dwarfs took her to my chambers, and carefully and slowly undressed her. What a magnificent pale, shapely body she has. I allowed the 7 men to have some fun with her before I bathed, and re-dressed her.  
She awoke to find herself with pierced nipples, and a pierced clit. She was spread eagle to my bed, and wearing a chastity device. Fuck she is magnificent! 
In walks my lovely neighbor, Maleficent. She apologizes for not knocking but she assumed I would not hear her over the dwarfs gang bang. She had a huge surprise for me, and pulled up her skirt. What a beautiful big, thick cock she has. She explained she had to do many perverted things to get it, but it was worth it. 
                            The poison in the Appletini  was strong, and she fell asleep again. The mortgage was due, and I had a plan. I invited all the men in the land to gang bang Sleeping Beauty at a cost. We joined in as we raped, molested, tortured, and took her over and over again. 
May Your Halloween be As Twisted As Lady Rayne
Call Lady Rayne @ 1-888-738-1720
Email- deviantladyrayne@aol.com