Isabelle's Naughty Naked Pool Party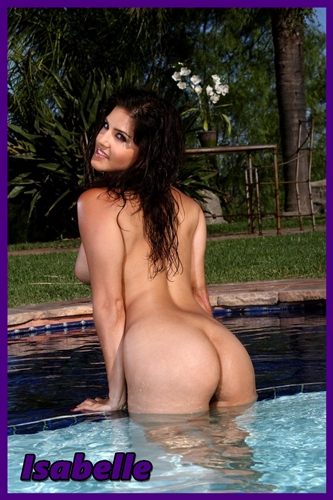 Today is the last day of my internship. This job has been tedious, a big yawn, and the Hotel Manager is a total control freak. Needless to say, I am happy that today is my last day. Most of the staff are nice people, but they always seem so stressed.  Probably, not going to put this job experience on my resume because I don't think I learned anything here.
The parting words from the Hotel Manager are to make sure I turn in all of my uniforms.  WTF? No parting words of wisdom, no thoughtful gesture, no expression of gratitude! I was not expecting him to fall down and kiss my feet, but now I truly understand why all the employees are so cranky around here.
As he stood there looking at me, I was tempted to tear off my shirt and hand it to him. I just simply nodded and walked away.  I was making the rounds, saying my "thank you's" and "good-byes" to my friends on staff.  I ran into a couple of the sexy pool servers that were getting ready to change into their uniforms for the start of their shifts. The group of hot girls and I were complaining about the Manager. We decided to break the rules and have some naughty fun. Release our frustrations.
The only nice thing about this crappy hotel is the pool, but employees were not allowed to swim. The pool girls and I decided to go for a swim before the pool opened to the hotel guests.  None of us had our bikinis with us, so we decided to go skinny dipping! We had a  naughty naked girl pool party! The girls and I got sexy with each other in the pool. Some hot girl on girl fun!  It was a blast!
After our pool party, I put on my shorts, panties, and bra.  Wrapped up in a towel and headed for my car. I left my uniform top on the diving board of the pool. Sent the Hotel Manager a text where he could find it. Haha!
Bratty Isabelle
.
Call Isabelle @ 1-866-704-9517
 Message on AIM- isabelleisgoing2rockurworld