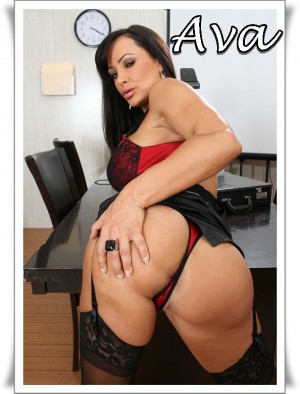 You work for Ms. Ava. She has a nasty side. She is demanding and very difficult to please. Her expectations are very high. She has the reputation of being a real ball-buster. 
Ms. Ava will soon be doing your review. You are nervous. It has been impossible to meet all the goals and objectives because of all the extra work she has given you this quarter.
You were hoping for a decent raise and an excellent bonus, but you are fearful that nasty Ms. Ava will give you bad review. You need to get her in a good mood. There's only one thing to do!
The only way to tame Ms. Ava is to pleasure her backside. Get nasty with Ms. Ava and turn that nasty bitch to a docile kitten! Worship that big round ass for her. Use your tongue and slowly rim that ass. Make her purr and beg for more. Slip your tongue inside that ass. Watch her play with her own pussy while you tease her ass with your tongue.  Finger that ass and make her legs weak.
 Fuck her ass with your hard cock. Give her ass a load of your sweet creamy cum and put a big smile on her face.  Pleasure her nasty side and you will be rewarded!
Call Ava @ 1-888-716-5587
Email- hotmilfava@aol.com