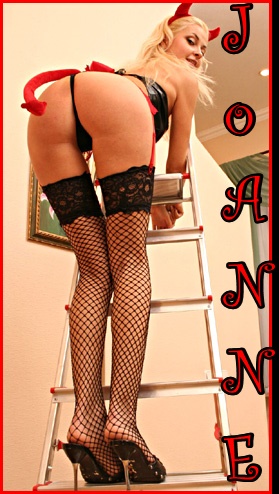 Looking at my picture, all you can think about is running your hands up my warm, smooth legs. Giving me gentle kisses all over my cheeks, and letting your hands roam over my ass. I can feel you giving my cheeks a firm squeeze with your hands.
Is your cock hard yet?
 I'll let you in on a little secret, I've been really horny today. So turned on that I can feel my wetness on my panties. Feeling my soaked thong against my pussy lips makes me want to do very dirty things to you.
  I want you to take your tongue and lick my sweet juices off my black thong. After every inch of my panties is sucked dry, pull my thong to the side and my ass is yours. You have been drooling at my perfect ass for years now, it's now time to suck, lick and repeat. 
Worshiping my pussy and ass is just for starters. I'm the devil today and I'll be having you do things you never thought you would do. 
.
Call Joanne @ 1-866-477-1047
Email- kmadamejoanne@aol.com