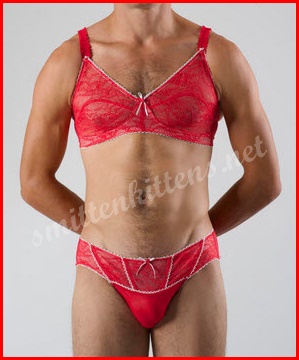 It's Valentine's Day day and you're at work. I call you and tell you how much I love spending time with you and can't wait to be with you on this special day. I also tell you in full detail my new red lace bra and panties I bought and can't wait for you to get home and see it.
I wasn't surprised when you came home early. Someone was a little excited to see me! I took you by your hand and brought you to the bedroom. You see the red lace bra and panties I was describing to you on the phone earlier laid out on the bed. I demand that you put them on for me. Naturally, you're confused because you envisioned me wearing them for our hot night together.
Finally, you do as I say and what for me on the bed wearing your sexy red lingerie. While patiently waiting for me, you feel your cock stiffen in your panties.
I return wearing a black leather bra and matching thong with a huge 10 inch strap-on between my legs. You're extremely scared yet excited at the same time. I have you put your legs on my shoulders and I give you a deviant look into your eyes. This will hurt but if you love me, you'll take all 10 inches! Are you ready to be my Valentine?
.
Call Autumn @ 1-888-679-8089
Email: blondebombshellautumn@aol.com