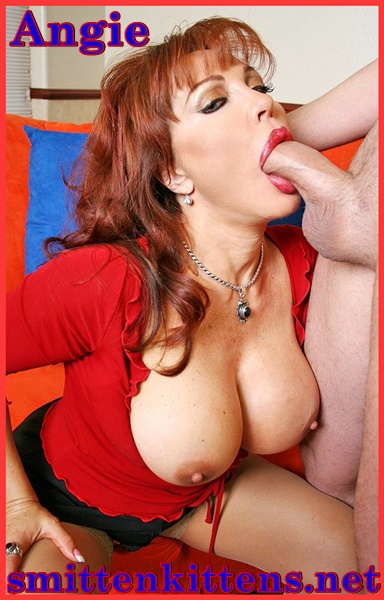 I paid a visit to my daughters today and my attractive son in law told me she had a fertility doctor appointment.
He invited me in and gave me a glass of Chardonnay. He knows me all to well. We chatted about life for awhile and I realized I had one too many glasses of Chardonnay. I was feeling dizzy and a bit frisky.
Next thing I know, I pulled down my blouse to show off my big breasts, and got on my knees to take off his trousers. He was a little reluctant at first but when my hand was stroking his shaft, and my bright red lips were sucking the head of his cock, he couldn't resist. He said he hasn't had a blowjob in months. Poor baby! I made sure to give him some extra special attention. I even slipped a finger in his ass. He was loving it and told me he's never had that done before. My daughter has really neglected his sexual needs and I'm glad to step in and help.
I had him pound my mature pussy and told him he can say any nasty thing to me. I reached down to grab his balls and that made him shoot a very large load inside me. With the amount of cum he put in me, I might get pregnant! Too bad I'm too old otherwise, I can tell my daughter to cancel her fertility appointment because I'm going to have your baby!
I'm thinking my son in law and I need more alone time in the near future. My daughter certainly isn't getting the job done. He needs his horny mother in law to take care of his needs and that means more trips for my daughter to the fertility doctor because I'll be the one draining his balls!

.
Email- missangieknowsbest@aol.com