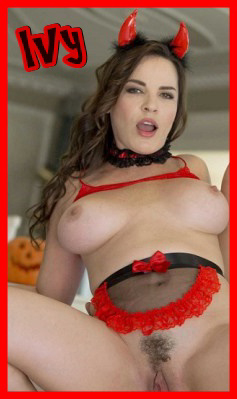 Happy Halloween month you perv! I know just what you're fucking thinking. You want this year to be different. You're so excited and you know just what and who you want. She is older than you're used to, but she is so hot in a chubby, big tits sort of way. You've worked for her for many years. She is bossy, rude, and you can't stand her. You want to hurt her. You're waiting for all the Halloween excitement. Adorable little ones are everywhere. People are drinking, drugging and going to parties. This is your night to strike.
You knock on her door and she thinks it is kids. When she opens the door with a big, fake smile you push the taser into her round tummy. She convulses and falls on the floor. You look around to see if anyone was watching. They weren't. You look at her body and quickly strip her. She wakes up to find herself bound to the bed. She tries to scream, but it gets stuck in her throat. You know what she is so frantic about. You picked her for two reason and the second one is in her pretty pink Laura Ashley bedroom. 
The bitch tries to give you what you want. All she can think of is the girl in the pink bedroom. You fuck the life out of her and finish with your strong hands around her neck. Just when her life is slipping away, you whisper in her ear that next you will be heading to the pretty pink bedroom.
Happy Halloween! May all your fantasies be dark and deviant.
Call Ivy @ 1-866-949-6550
Email-poisonivy4phone@aol.com